We had a fantastic opening day on Tuesday 4/3 at Victor.  About 50 members lined up and we got the season started despite in cool, cloudy, but dry conditions.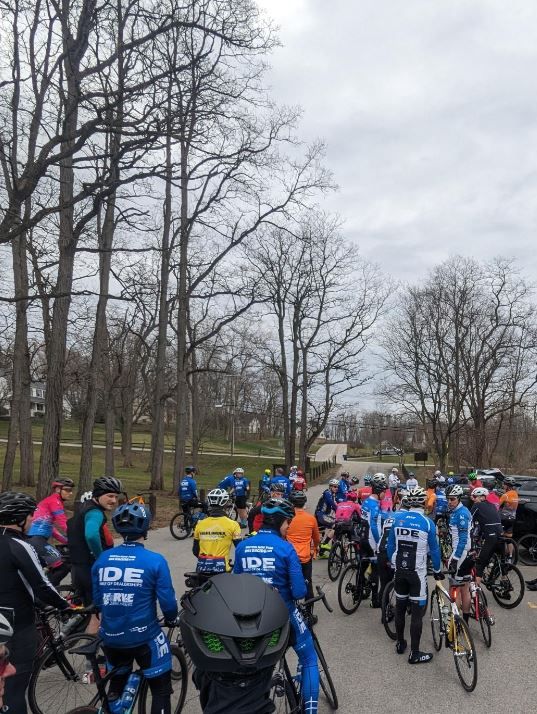 There were many familiar faces and about 10 first-timers in the lot at 6pm.  GVCC VP and Race Director Fernando Galiana gave his pre-event instructions, and the the As were off for 6 laps and Bs 5.  2 place prime on the hill on lap 3 for both groups.
In the As is was an outright battle with many eager to check their fitness and throw down.  The ceremonial first lap / 100M attack at the church - aka The Minerva - was missed as friendly chatter encompassed the group. But before long attacks where flying and things got spicy.  For both of the first two accents up the hill it was 3 wide and hard tempo instead of the full gas 1 minute test.  By the 3rd lap selections were being made with strong attacks by the trading tandems of Castor & Sheffield (Good Guys) and Kuhns & Pudiak (Premium Mortgage).  van Aardt (Nalgene pb North Glow Photography) was ready to rock and covering all comers.  Attrition began to settle in and the group was down to 13 or so with 3 to go. Attack, recover, attack, recover was the theme as the race saw 2s and 3s get off the front only to be brought back by what remained of the determined peloton which especially strong riding by Dave Bischoff (Ide Family of Dealerships).  On the final lap Kuhn's persistence paid off with Sheffield for company followed by Lubkowski (TruePath).  Castor set off in pursuit solo on Cline Rd and the remainder of the field sat tentative.  Finally Gworek (Twin Line / Ide Racing) unleashed a massive rip up the climb with only van Aardt and Pudiak able to match.  Sheffield rolled in for the win, followed by Kuhns, Castor, van Aardt, Gworek and Pudiak.  Lubkowski hung on in a valiant effort for 7th as the remaining 5 chased him down the hill.
It was an incredible open to what's looking like a promising season of some serious but friendly competition.
In the Bs there was excitement to get the season started as well.  With as many as 10 new faces to the G-Tour the group was solid and looking fast.  Comparing Strava times up the hill, the Bs were not playing, with several going under one minute for the segment.  Missing a full race report, the field stuck together for the most part, with Jesse Corum (Pete's Wheels) taking the W followed by Nittolo (Richardsons) and Quinlan (GVCC).  New comer Pete Gaffney (GVCC) in the points in his first race with a nice 6th place.
Results are here.
We're excited about the 2023 season!  And now is a great time to join us as we get things rolling.  If we get enough new riders to form a C group we will!  Don't hesitate to reach out with questions - info@gvccracing.com