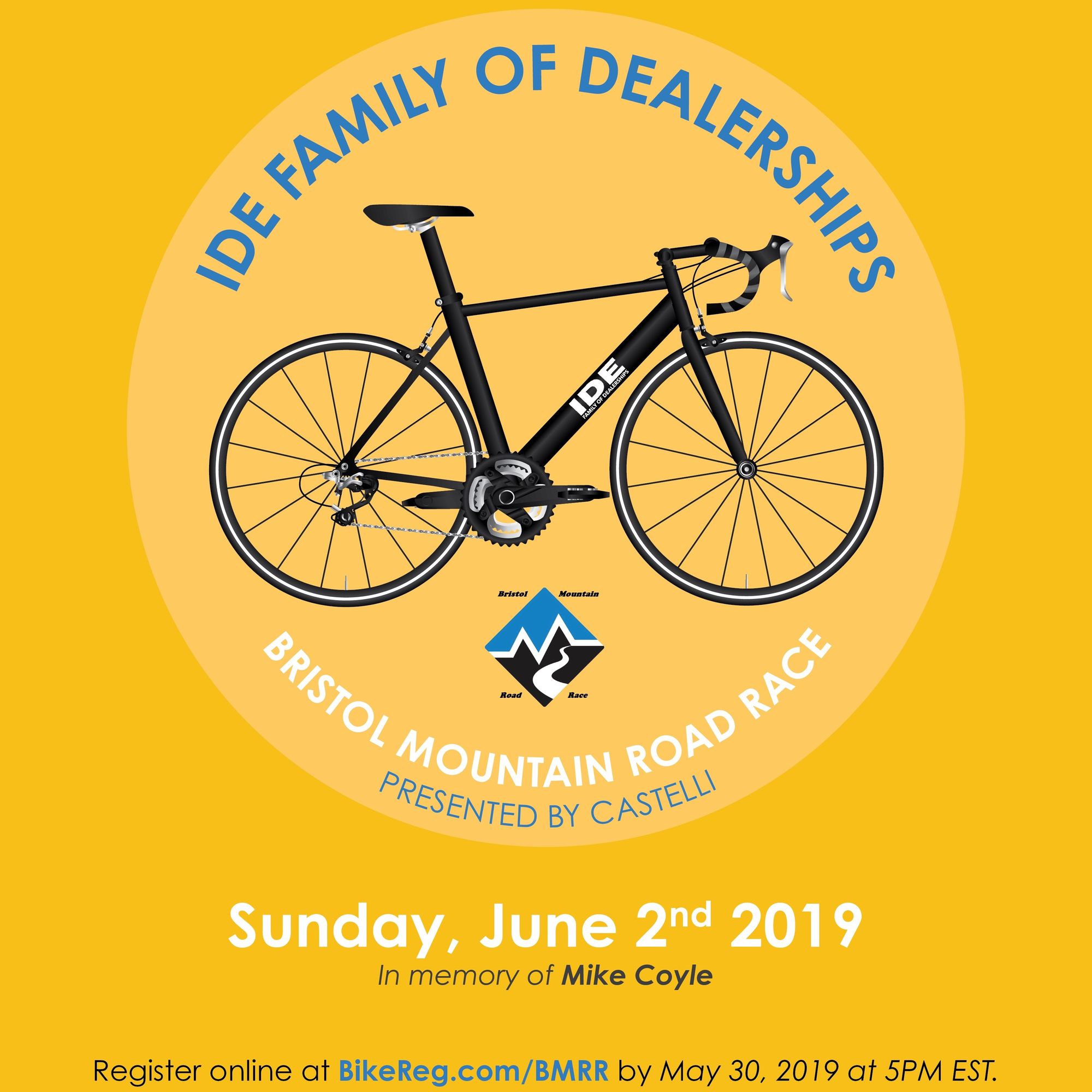 Sunday June 2nd, 2019 marks the 26th edition of Western New York's preeminent Spring Monument, the Bristol Mountain Road Race.
The course is on a 17 mile loop of beautiful terrain in Bristol, NY. Each lap has 1,388 feet of elevation gain. There will be a neutral roll out from the Levi Corser Memorial Park staging area which is located at 6740 County Rd 32; Canandaigua, NY 14424. Recommended gearing is 11-28.
Race held under a USA Cycling Permit # 2019-1645 rain, snow, or shine. Register online at http://www.BikeReg.com/BMRR. See Strava route link at: https://www.strava.com/routes/211715. The last lap of each race will take a right hand turn off of Bristol Rd (32) after 1.8 miles onto South Hill Rd and finish approximately 500 meters up South Hill Rd.

Register Here: https://www.bikereg.com/42479
Check-in opens day of event at 8:30AM and closes 30 minutes prior to each field's race start time.
To be named NYS Road Champion you must hold an annual USA Cycling license and be a resident of NYS.
One day licenses available for junior, cat 5 men, cat 5 women, and citizen racers for an additional $10.
To avoid the one day license fee racers need to present a current annual USA Cycling license or annual international cycling license at sign in. Proof may be in the form of a physical license or using the "My USAC" mobile application.
Different fields may not ride together during the race unless they start at the same time.
There will be multiple fields on the race course at one time. Please stay to your right and hold your line when being passed. Neutralize, if necessary, to avoid interfering.
At all times, racers will remain to the right of the center of the road and will not be permitted to cross over the center line; this rule is strictly enforced by the race officials. Law enforcement may issue tickets to violators. Racers have been disqualified in past races for violating this rule.
A 'Broom Wagon' will follow along course loop to collect riders who have abandoned.
Each group will roll out of parking lot going East onto Route 32 (Bristol Road). The riders will then take a right onto Route 64 under neutralized conditions for approximately 1 mile before racing begins. During the Neutral Start, no racing will be permitted. Course profile picture above.
Strava 17 mile main route link: https://www.strava.com/routes/211715. The last lap of each race will take a right hand turn off of Bristol Rd (32) after 1.8 miles (on to South Hill Rd). The race will finish approximately 500 meters up South Hill Rd. See specific finish here: BMRR Race Finish.
Course is subject to change.
Maximum field limit is 100 racers unless it contains cat 5 women or cat 5 men which then it is 75 racers.
Donations to the Mike Coyle Memorial Fund are appreciated. This can be done right from BikeReg.
Please support our race sponsors by clicking on hyperlink pictures and logos at bottom of this page or on the race flyer.
The event is supported by generous race grants from the New York State Bicycle Racing Association (NYSBRA).
Category 1/2 race purse payout schedule: $250 (1st), $150 (2nd), $90 (3rd), $50 (4th), $30 (5th).
All master's racers must hold an annual license to participate in a master's race field.
No day of registration.
Participation by invitation only.
*nysbra state championship race.
Bristol Mountain Road Race is supported by the following sponsors...